Usually, in fantasy movies, a hero would appear just when things look bleak and humanity need saving.
Heroes like these exist in real life too, and unlike the heroes in fantasy movies, they usually come without a costume or a cape.
So, when one of the '
worst floods in 100 years
' hit the country recently, a lot of heroes came out to help those affected by the natural disaster.
One of them was
'Abang Viva'
.
Image credit:
Twitter/KulupKudin
The story of '
Abang Viva
' has gone viral on social media, thanks to his noble actions during the time of need.
So, who is this '
Abang Viva
' and why was he dubbed the unsung hero of the recent floods?
Here are some of the info we managed to gather from social media:
A boat and a Perodua Viva
The legend of '
Abang Viva
' first started when Twitter user
@KulupKudin
sent out a tweet last Sunday (19 December).
His tweet included a photo of '
Abang Viva
' in a red shirt, standing in front of his trusty little Perodua Viva with a boat strapped on top of its roof.
Abang Azwan ni datang dari Melaka bawak bot dia turun bagi bantuan dekat Shah Alam pagi tadi lepastu dia turun backup Puchong, and sekarang dia nak ke Sri Muda pulak untuk bantu mangsa disana.#unsunghero #rakyatjagarakyat pic.twitter.com/S2G54WA6CH

— Cheng ? (@KulupKudin) December 19, 2021
According to @KulupKudin, '
Abang Viva
' drove all the way from Melaka to provide help with his boat.
@KulupKudin added that '
Abang Viva
' had a busy Sunday, as he drove to Shah Alam earlier in the day to help evacuate those stranded by the flood there before making his way to Puchong.
When the picture was taken, he was said to be on his way to Sri Muda in Shah Alam to help the residents there.
Here's a video of 'Abang Viva' in action:
'
Abang Viva
''s selfless act won over the hearts of netizens, who praised him for risking his life to help those in need:
steady bang. awak hero bang??? semoga allah memberkati hidup awak bang ??

— S̸̫͉̕h̴̦͗͗͝ǎ̴̘̥h̴̺͍̉ȋ̵̬̩̣̓ȑ̵̦̇ (@AimanShahir6) December 19, 2021
Terima kasih abg azwan. Semoga dilindungi dari bahaya ?

— ciya_ (@caciraaaaaa) December 19, 2021
Semoga kehidupan abg nih akan dtg dipermudahkan segala urusan..terima kasih!!

— ? (@nickalif) December 19, 2021
Abang Azwan, before balik melaka, DM me. Kami sekeluarga belanja dinner!! You deserve it

— shatweets (@shareadstweets) December 19, 2021
Mmg mntap brader ni.less talk more action

— B0N€S (@mohdridzuar) December 19, 2021
A hero !!!!

— Froggo ?? (@eric4ariann4) December 19, 2021
Unsung hero!! TQ! ?

— ?? YNWA (@Mages_Suppiah) December 19, 2021
Terima kasih bayak Bro Azwan… semoga di permudahkan urusan mu Bro dunia akhirat ????????

— enrekansugik ????? (@enrekan_sugik) December 19, 2021
Not all heroes wear capes! Terima kasih Abang Azwan!

— Arvin Kumar (@AK_arvinkumar) December 19, 2021
Who is 'Abang Viva'?
After the story of '
Abang Viva
' went viral, many were left wondering who this unsung hero was, sweeping in to help those in times of need and disappearing into the night when his job is done.
Now, thanks to a posting uploaded onto Facebook by user
Dr. Abdél Rahmanov
, we may finally have an answer to that question.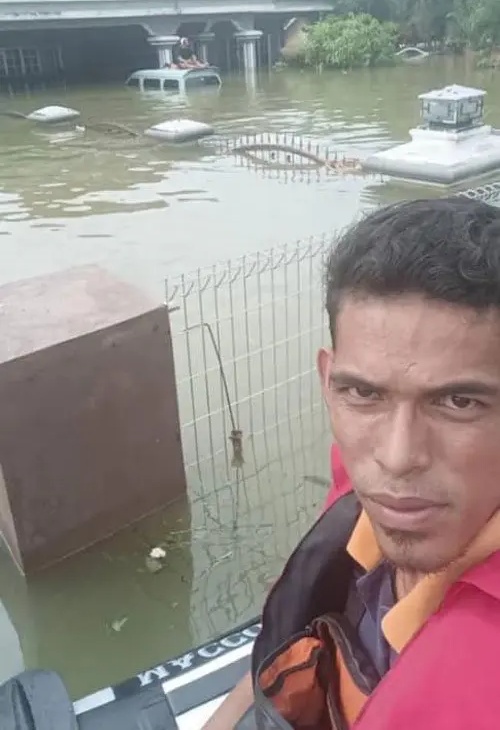 Image credit:
Motoqar
According to Dr. Abdél, 'Abang Viva''s real name is
Azwan Omar
.
He hails from Melaka and works as a machine operator. When news of the flood hit, Azwan approached his employer and asked for an emergency leave so that he could travel to Shah Alam to help those stranded by the flood.
With only RM50 in his pocket, he set out on his mission. Dr. Abdél wrote that he used RM20 to fuel up his boat, while the remaining RM30 was spent on food and water.
Azwan spent five days travelling between areas affected by the flood with his Perodua Viva and trusty boat, and among those who he managed to help include a disabled elderly man as well as a new mother and her newborn baby.
Image credit:
Facebook/Dr. Abdél Rahmanov
During those five days, Azwan slept in his boat and filled his tummy with just bread and water. Despite that, he soldiered on and continued helping those stranded by the flood.
When Azwan's story went viral, concerned Malaysians got in touch with him and started donating to his cause, but according to Dr. Abdél, Azwan was reluctant to accept the donations.
Instead, he donated a majority of it to non-government organisations (NGOs).
"I sincerely came to help, so I don't expect anything in return. I didn't even ask to go viral like this.
"So, all the donation I received, I will channel back to the flood victims," Azwan said.
Update: Abang Azwan ada transfer ke acc aku diamanahkan untuk salurkan bantuan. Aku beli barang keperluan. Masih ada baki pic.twitter.com/f0nfn0lpHa

— Cheng ? (@KulupKudin) December 21, 2021
The saying is indeed true: not all heroes wear capes.
Thank you, Abang Azwan, for sacrificing your life and time to help those in need. We definitely need more people like you in this world.
May god bless your kind soul.