While this writer is a 90s kid who has never heard of this name, those who grew up in the 80s or earlier may be familiar with a household brand Sunshine Bakeries.
The history of the brand is a bit ambiguous but it started in 1930 in Malaya and Singapore, and it remains a staple in our neighbouring country today. We spoke to a Singaporean reader who said, "When I was growing up, it was definitely a household brand. It's always between Gardenia and Sunshine, for us. But now, not every Singaporean may be familiar with it with the increasing affluence and hipsterisation."
However, it mysteriously disappeared from the market in the early 90s in Malaysia but made its official comeback last year with a launch in the Klang Valley region and Negeri Sembilan.
We spoke to a local mini market operator who has been in business for almost five decades who said, "As I remember I didn't grow up with it, but Sunshine used to be well-known around thirty or forty years ago I think. That used to be the best bread then. This was before Gardenia became famous in Malaysia but it disappeared."
This writer's father who is in his late 60s said, "The roti man used to come every day in the evening and ring the bell to announce his arrival. This was when the sales of bread was monopolised by the roti men and you could hardly get it in sundry shops. The bread was wrapped in wax paper and cost about 20 cents. I used to eat it every day."
We spoke to Sunshine Bread Sdn Bhd CEO, Mr Michael Chew about this once well-loved brand, and how it's hoping to make its way back into the hearts (and stomachs) of Malaysians.
Michael brings with him more than 20 years of experience in the FMCG industry and in his most present role as CEO of Sunshine Bread Sdn Bhd, he is responsible for leading the team in driving its expansion exercise into the Malaysian market.
Michael shares, "We will continue to put in the same passion and care in our baked goods as when it started in 1930. We will put our consumers at the heart of our brand, to provide the highest quality and nutritious bread to be enjoyed by our Malaysian consumers."
The CEO also shared with us being in the bread industry, he snacks on the cream rolls after his badminton sessions and enjoys putting his wife's creativity to the test by challenging her to prepare different sandwich combos for the family's breakfast on weekends.
While there are already some heavy hitters in the market, Sunshine Bakeries are confident that they can come back bigger and better than ever. "Sunshine Bakeries brings with it 90 years of crafting experience built on the same delicious traditional recipe that has been enjoyed by families across taste generations for decades. Before entering Klang Valley, we have studied the market extensively to better understand the types of products that our consumers are looking for," Michael said.
Of the products that they've introduced, Michael mentioned that the Soft White, 100% Australian Oat Wholemeal bread, Bread with Wheat Germ and Bran, and selection of wholemeal cream rolls are healthy products that they've brought in that they are confident will appeal to Malaysians.
They also introduced a new Homestyle Pandan Bread that they believe Malaysian audiences will love the familiar fragrant of all of which are of course, Halal certified.
The bread was introduced in partnership with local ice cream makers Sangkaya and they launched a limited time pandan ice cream bread sold at Sangkaya outlets. (Editor's Note: I've tried the pandan bread, it smells heavenly and goes well with kaya)
In contrast, they sell garlic bread which we are most excited about because who doesn't love garlic bread? They hope to expand their range with more products in the future as they receive feedback from the Malaysian consumers.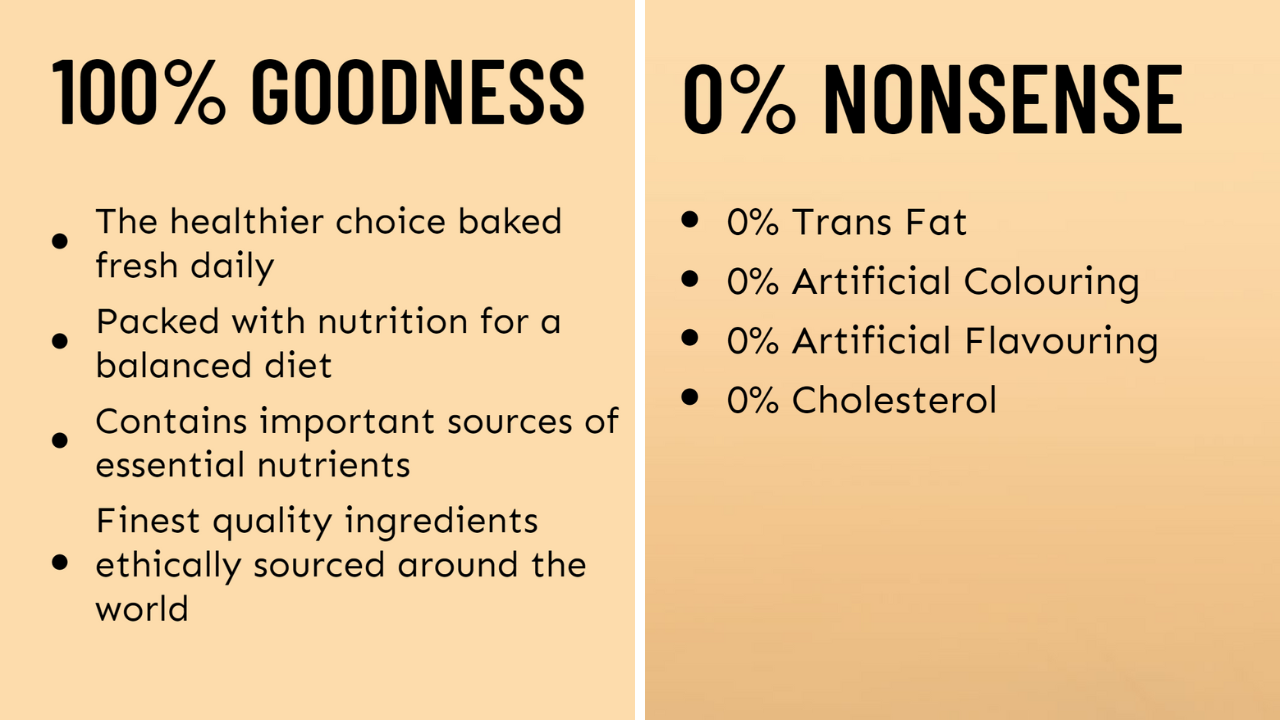 Their catchy tagline serves to emphasise this concept, says Michael, "We have developed the tagline "100% goodness, 0% nonsense" to showcase that we are offering a healthier choice for our consumers, with breads that are baked fresh daily using the finest quality ingredients sourced from around the world.
"Our breads also contain important sources of essential nutrients so our consumers are assured of getting 100% goodness and 0% nonsense and nutrition in every bite."
"As we mark one year in Klang Valley this October, Sunshine Bakeries aspires to continue to grow its presence in Klang Valley across more retail outlets. As we continue our expansion exercise across the Klang Valley region, it is our hope to enable an even wider set of consumers to experience Sunshine Bakeries' products conveniently by visiting the outlet closest to them. In addition, our customers can also look forward to more products in the near future."
On top of that, they are conducting on-ground product sampling roadshows and touchpoints so keep an eye out for those (the aunty in us is always up for free samples).
Sunshine Bakeries' bread loaves and cream rolls are currently available at selected AEON, Giant, Jaya Grocer, Lotus's, Mydin, and myNews outlets in Negeri Sembilan and Klang Valley. This Penang-based writer hopes that they will head to this island soon so that she can get a bite of this bread.
Will you be picking up Sunshine bread instead of Gardenia from now on? Or are you Massimo for life? Let us know.