News organisation Astro Awani tops the list of the most trusted news agency yet again, continuing the streak since 2018.
The streak began after Astro Awani's famous 'Malaysia Memilih' documented the overnight change of the times during GE14, that also helped them bag the 'Best News Programme' award at the Asian Creative Academy Awards in 2018.
Based on Reuters Institute's Digital News Report 2022, Astro Awani gained 64% on the trust meter and only a small 12% expressed distrust towards the organisation.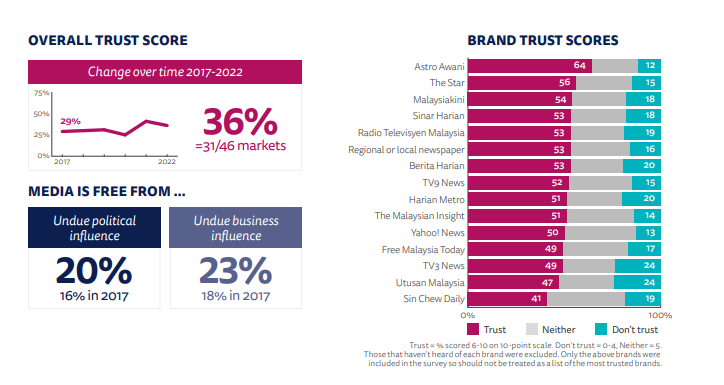 Following Astro Awani are The Star and Malaysiakini at the second and third spot at 56% and 54% respectively.
'Astro Awani and Malaysiakini remain at the top largely because of the balanced yet critical approach of the former and the independence of the latter.' said Reuters.
At fourth position is Sinar Harian, the only national or vernacular language agency to break into the top four this year. According to Reuters: 'National-language and vernacular newspapers have long been recognised as often being politically owned and aligned'.
Reuters also reports that a whopping 52% share news via social messaging or email, which explains Whatsapp's rank as the second most used social media and messaging tool behind Facebook. With these findings, peer-to-peer is still one of the most widely influential method in spreading information or misinformation to the masses.
Read the whole report here:
https://reutersinstitute.politics.ox.ac.uk/digital-news-report/2022/resources