It seems that queue jumping is a bad habit among Malaysians.
We see it all the time: at traffic lights while driving, at check out counters while grocery shopping and even when you're
buying a new car
.
And now, with the roll out of the COVID-19 vaccines, there are already reports of queue jumpers.
The government is reportedly aware of that, and they are going to do something about it.
Queue jumping: denied!
Health Minister Datuk Seri Dr Adham Baba told
The Star Online
that the government is looking at imposing a fine on those who are caught jumping the queue for COVID-19 vaccines.
After chairing a meeting with Science, Technology and Innovation Minister Khairy Jamaluddin on Monday (1 March), Dr Adham said the Special Committee on COVID-19 Vaccine Supply Access Guarantee (JKJV) had come up with a clearer guideline.
Dr Adham revealed that there is a law to punish said queue jumpers.
"Under the Act, we have several specific provisions in which we can bring a person to justice by way of a fine if they prevent or stall efforts to control and prevent the spread of COVID-19," he was quoted as saying.
On top of that, Khairy added that the government has set up a special sub-committee to investigate complaints of queue jumping.
According to Khairy, the queue jumping issue stemmed from a confusion over the exact definition of 'frontliner', and the JKJV has attempted to fix that by coming up with a clearer guideline.
He added that under the guideline,
menteris besar
, officers of state excos and state secretaries are not included in Phase 1 of the vaccination programme.
"Wait your turn and don't even try to register and jump the queue," he warned.
This came after reports of several aides to politicians and senior civil servants jumped the queue to get their vaccinations meant for frontliners under Phase 1 of the vaccination programme made the headlines.
Now that the government has identified the queue jumpers, we wonder if they will really take action against the VIPs who jumped queue.
How to register for vaccination
As the vaccination programme is officially underway, Malaysians can now register to be vaccinated using the MySejahtera app.
If you have yet to register (why not?!), here's how you do it:
Go to the app's home screen and you'll see a 'COVID-19 Vaccination' button. Click on the button.
You will then be led to this screen, where you'll see a 'Vaccine for
' button.

Click on the button.




The app will then ask you to verify your personal details:




Once you submit your information, you will be led to this 'celebaratory' page (we have no idea what that means).

But to really make sure that you've successfully enroled, click on the 'Next' button at the bottom of your screen.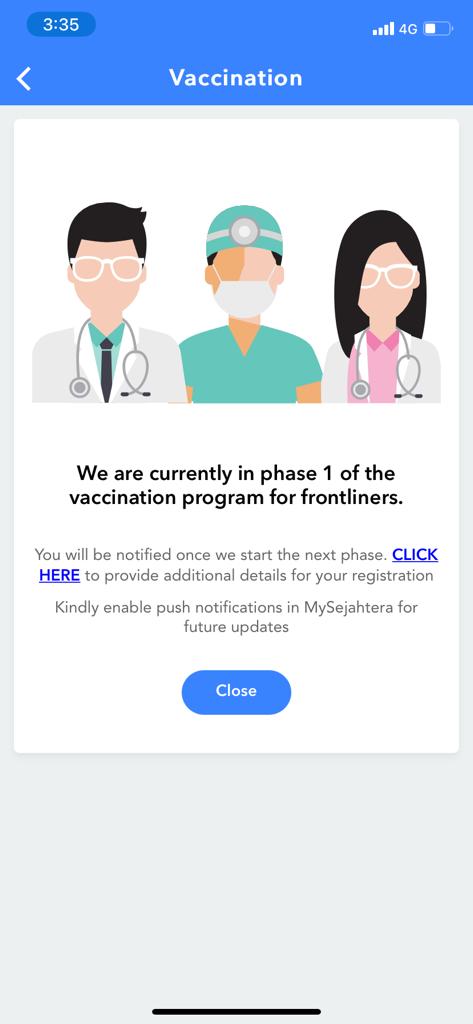 Click on the 'CLICK HERE' link and you'll then be forwarded to a questionnaire.

Please remember to answer the questions truthfully, because this is literally a matter of life and death.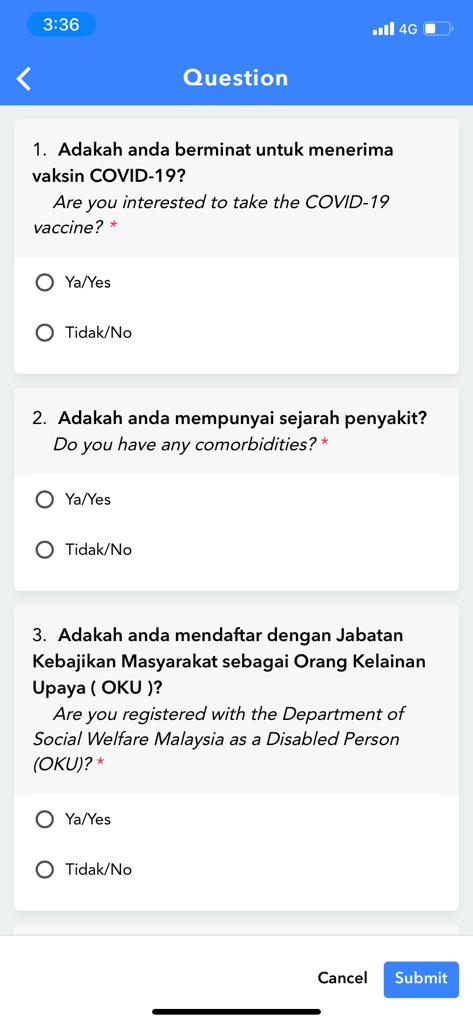 There will be additional questions for the first two questions if you pick "no" for the first question and "yes" for the second one.