We don't know about you guys, but we love buying pretty and expensive stationery…and never using it. There is just something about beautifully bound notebooks and fancy pens that allure us. To some, it may seem like a strange hobby, but a look at Heron Hashim's Instagram page shows that he has a unique talent for scrapbooking and calligraphy as well as an eye for vintage ephemera. To collectors, 'ephemera' are vintage printed or written items which originally served some specific purpose and were not expected to be retained or preserved but are now cherished.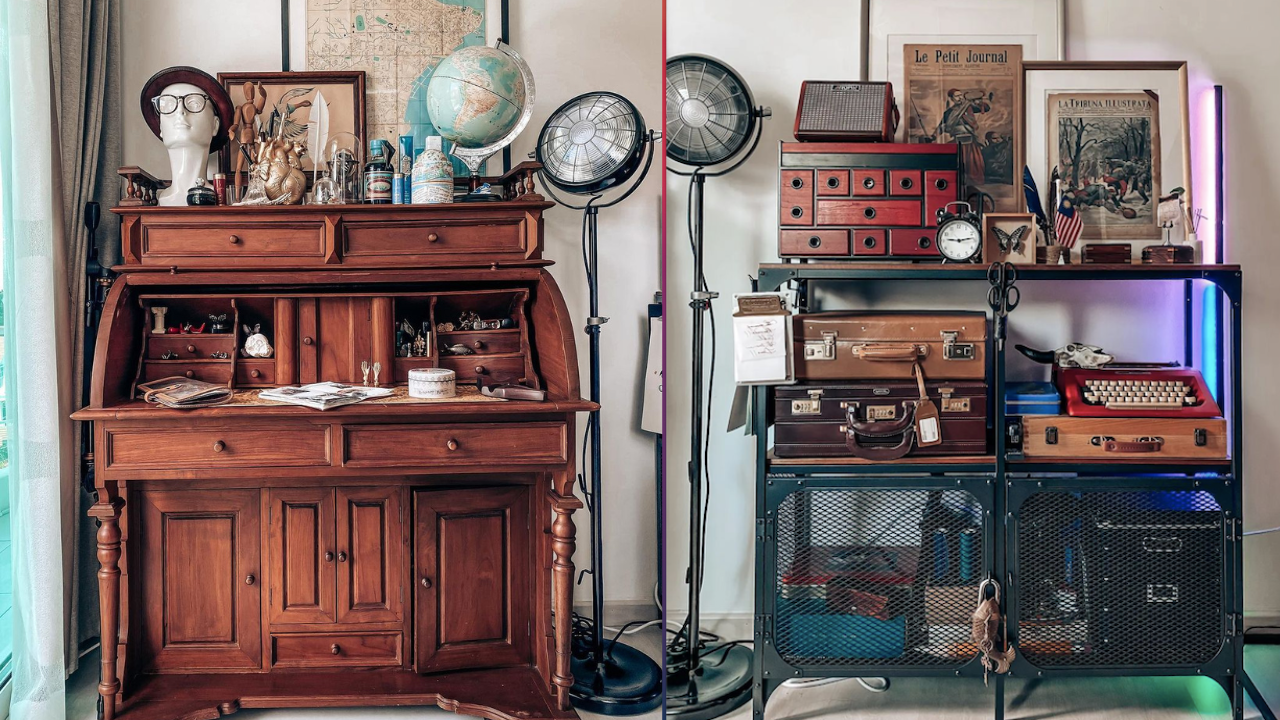 Each item in the 45-year-old's collection has been lovingly acquired and the same careful detail has been put into curating his Instagram feed, which now has over 6,000 followers. While the rest of us may spend our free time mindlessly scrolling through social media, the Software Senior Manager also admirably spends his free time dabbling in photography and collecting fountain pens.
On top of that, he has an interest in vintage motorcycles, and he owns vehicle inspired by retro styles –– a modern twin-cylinder motorcycle, Royal Enfield Interceptor 650,. As he shared with us, "I am a well-rounded individual with a variety of interests and passions. I have an appreciation for nostalgia and a desire to connect with the past."
With the high quality of his work, you'd think that Heron has been doing this for years but scrapbooking as a leisure pursuit only started five years ago. He said, "A good friend of mine, Mr Arman Ismail presented me with a fountain pen and encouraged me to write. He was also the one who introduced me to papers and journal books. Since I was already collecting ephemeral vintage items, I combined the items and scrapbooking, photographed them, and then posted them on social media."
Heron shares that this hobby works as the perfect creative outlet, "I am working in the digital world, and it is good to do things in an 'analogue way' in my free time. It's therapeutic and keeps my mind active concurrently acts as a stress reliever."
The Penangite also spends his time off scouring local flea markets–which are also known as Pasar Karat––all over the country. He usually finds his vintage items from Lorong Kulit Flea Market in Penang, Taman Berjaya in Kedah, and Amcorp Mall in Selangor. He shares that he has a space in his home office just for his hobby, "I do have a dedicated room for my collection, journals, and fountain pens. "He names his Victorian Teak Antique Table, red Olivetti typewriter, and vintage cameras amongst his favourite finds.
For his stationery items, Heron heads to P.66 in Penang, CzipLee in KL, and PenGallery in PJ. He also receives sponsorships from brands such as Conklin, Monteverde, Esterbrook, Ferris Wheel Press, Montblanc, Shinjodu, and many more.
For those looking to start in on the hobby, Heron shared some tips, "First, you need to ensure that all your supplies are in one place. It can be really frustrating otherwise. Then, think of a theme or concept or jot down the things you want to write in advance. Get stickers or photos you want to use or browse through Pinterest for pictures and ideas."
In this video, he blows us away with his creativity as he even utilises paper napkins for a Halloween-themed page:
Here, Heron displays his detailed and meticulous work as he cuts words out of an H&M paper bag:
He also amazed us by making a 3-D typewriter-themed journal page:
He shared that his inspiration comes from various sources based on events of the day like Merdeka and CNY or the things that he comes across through reading like animals, history, and many more.
Writing snail mail may have gone out of fashion for many, but some still appreciate the gesture and Heron himself displays some truly brilliant calligraphy skills.
"I started learning calligraphy with American cursive from the calligraphy books and YouTube then I learnt ornamental cursive and business cursive and eventually I kind of combined it all and tailored it to my personal script."
This truly inspired us to get out our stationery and start using them! If you can't do this yourself because you don't have the patience or the time, live vicariously through him and follow Heron on Instagram.