Have you registered to get vaccinated against COVID-19 using the MySejahtera app?
If you've already done so, well done, but remember to give your registeration a quick check.
Final step needed
That is because as of 13 March, almost 1.4 million Malaysians who've registered to be vaccinated have failed to complete their registeration.
Science, Technology and Innovation Minister Khairy Jamaluddin told
New Straits Times
that a total of 1,398,494 registrations that were made in the MySejahtera app were incomplete.
According to Khairy, the individuals only gave certain information like their names and MyKad numbers, but left out other important information such as their addresses when doing so.
He said that such information is important to set appointment for vaccination.
"They did not complete the health assessment section and provide their latest address. These information are crucial and a complete registration is needed for us to issue an appointment for the vaccination," he was quoted as saying.
Khairy said that the vaccination will be done at a vaccination closest to an individual, and not according to the adress stated in their MyKad.
"Their addresses are vital because we will give an appointment to receive the doses at the COVID-19 Vaccination Centre closest to them. We do not follow the address on their MyKad as there are some who have moved.
"We will schedule vaccination appointments based on the address provided on the MySejahtera app," he added.
So guys, do check if you are one of those who have not completed the registration process.
How to register on MySejahtera app
Go to the app's home screen and you'll see a 'COVID-19 Vaccination' button. Click on the button.
You will then be led to this screen, where you'll see a 'Vaccine for
' button.

Click on the button.




The app will then ask you to verify your personal details:




Once you submit your information, you will be led to this 'celebaratory' page (we have no idea what that means).

But to really make sure that you've successfully enroled, click on the 'Next' button at the bottom of your screen.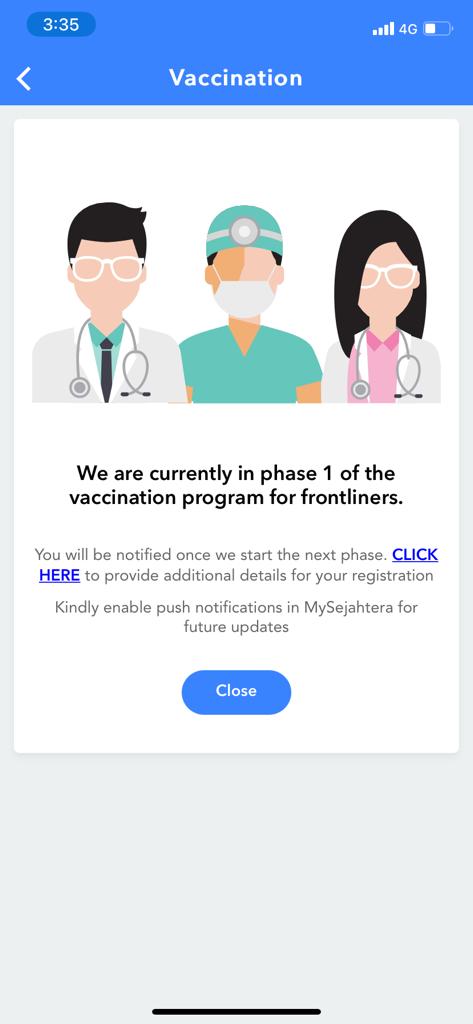 Click on the 'CLICK HERE' link and you'll then be forwarded to a questionnaire.

Please remember to answer the questions truthfully, because this is literally a matter of life and death.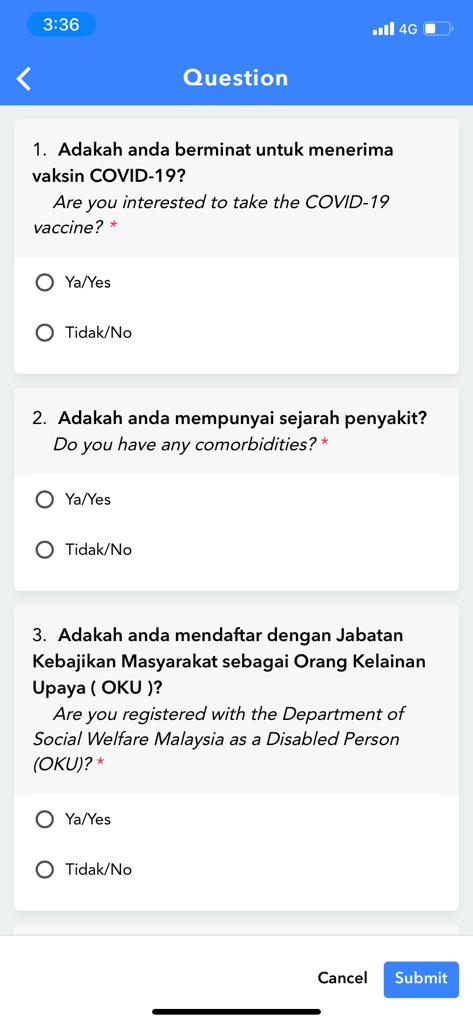 There will be additional questions for the first two questions if you pick "no" for the first question and "yes" for the second one.



Once you've submitted the questionnaire, you'll be greeted by this screen, and that means you've successfully registered: