Delivering you that finger lickin' win!
Do you want to score yourself some VIP tickets to one of the world's biggest and most prestigious Dota 2 tournaments happening this November? Or have you been eyeing that sweet gaming laptop for a long time now but you do not have enough savings to get it?
Good news; you can get both the VIP tickets and a high-end gaming laptop - for free! – by doing just one simple task: order some food from KFC Delivery online.
What is the Kuala Lumpur Major?
Everyone's favourite fried chicken fast food restaurant KFC is running a giveaway where you can stand to win tickets to
The Dota 2 Kuala Lumpur Major
, which is set to take place from
16 to 18 November
at the Axiata Arena in Bukit Jalil.
The first Dota 2 tournament of the 2018/2019 season, the KL Major will see 16 teams battle it out for the prize pool of
USD1mil (RM4.1mil)
.
If you're a huge Dota 2 or gaming fan, there's really no better place to be than the Axiata Arena in November.
OK, what do I stand to win?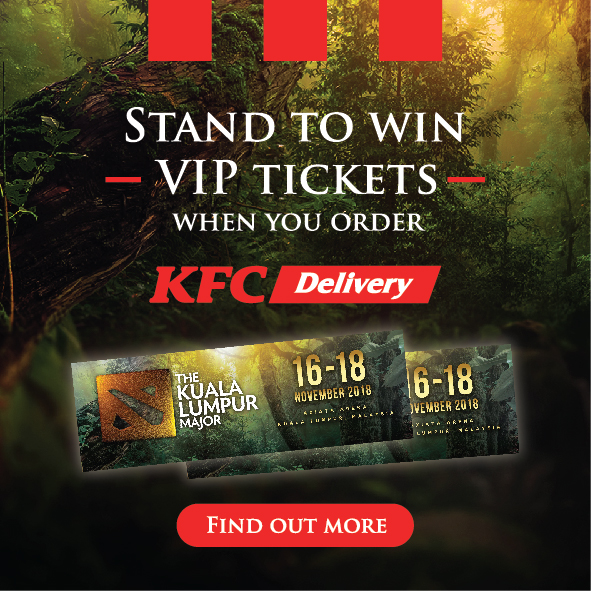 Major prizes, that's what! (Also, see what we did there?)
You stand a chance to win
VIP tickets
to the Kuala Lumpur Major, so you can watch the tournament like the rock star you are.
On top of that, you could also win an
Acer Predator gaming laptop
and other
gaming accessories
.
All in all, the prizes are worth more than
RM45,000
. Didn't we say the prizes are major?
I'm sold. How do I join?
Like we mention above, all you need to do is to order
KFC Delivery Online
.
But before that, you would first have to register an account for the giveaway with KFC by clicking on this
link
.
Then, during the giveaway period, just order KFC Delivery online to automatically qualify for the giveaway. The more times you get KFC to deliver food to you, the higher the chances of you winning the prizes.
If you do not know what to order, we recommend that you check out their brand new
KFC Zinger Waffle Burger
. The burger -- consisting of a crunchy Zinger fillet and chicken strips sandwiched between two Belgian waffles -- starts from RM13.50.
The giveaway runs from
9 to 31 October 2018
, so if you haven't signed up already, better do so soon.
For more information, click on this link right
here
.