With the borders open, most of us are tempted to hop on the plane and fly off for a gastronomic holiday. Hurrah! But with airfare prices soaring, you might want to rethink that holiday and enjoy some goodies right here in homeland instead.
We love our burnt cheesecakes and brownies just as much as the next person but sometimes we get bored of eating the same old thing, don't you? This is a list of rather lesser found desserts to satisfy your sweet tooth. Grab your forks and dig in!
Mont Blanc (Italian), Tanuki by Crustz
Loi Ming Ai the World Pastry Champion of 2019 is the talent behind this exquisite treat at Tanuki by Crustz, who has put his own spin on the classic Italian dessert. Aptly named as resembles a snow-capped mountain, this creamy delight is a mix of Chestnut Ice Cream, Black Currant Coulis, and Chestnut Chantilly perfectly balanced on top of an Almond Dacquoise that is baked to perfection. Do take note however that it contains whiskey.
Address: 26 Jalan Selera 1, Taman Bukit Indah 58200 Kuala Lumpur, Malaysia
Contact: +6011-5636 5092
Cruffin (Australia), The Bread Shop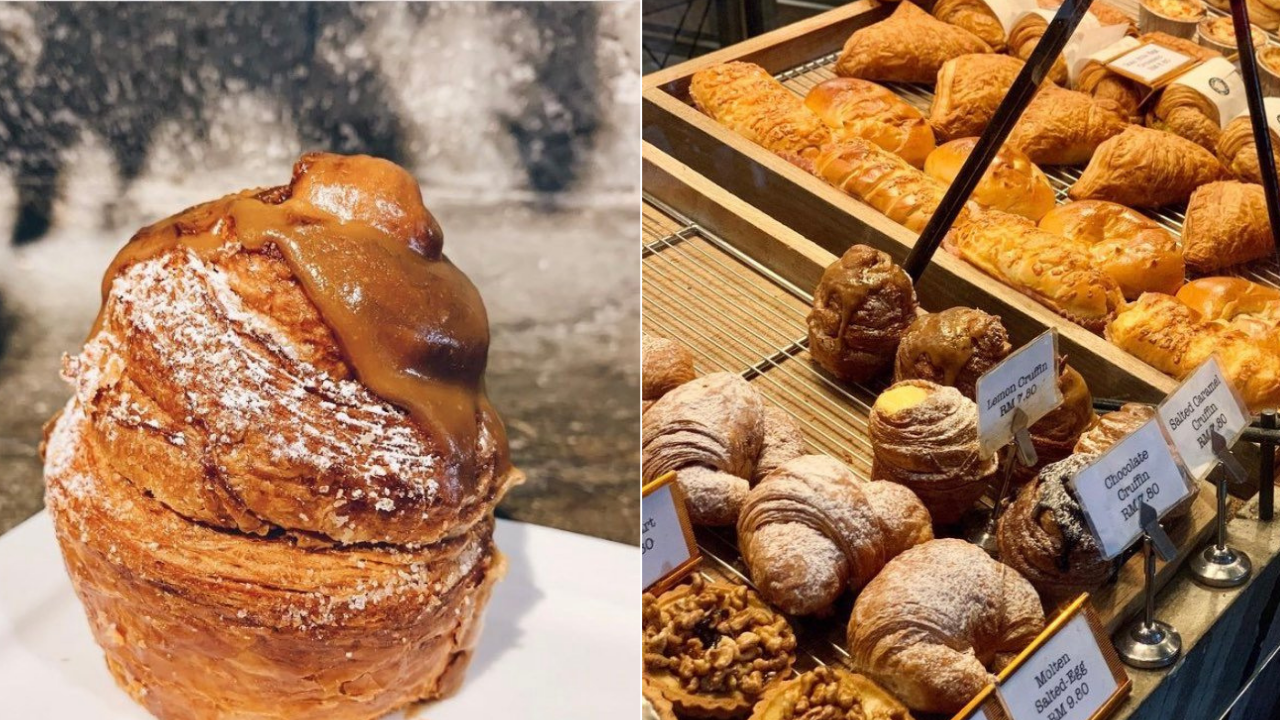 Cruffins, as you might have guessed, are a combination of croissants and muffins that were originally created by Lune Croissanterie in Melbourne, Australia. They were then popularised by Mr. Holmes Bakehouse in the U.S., which were so good that a thief actually broke in to steal their recipes. Yes, really. The Bread Shop's founder Peng has perfected the recipe here in KL so you can try it for yourself without breaking in to any bakeries. The fluffy pastry is available in different flavours with custard fillings that simply oozes out including lemon curd, chocolate, and salted caramel. One simply won't be enough!
Address: 11 Jalan Setiakasih 5, Bukit Damansara, Kuala Lumpur
Contact: +603-2093 8734
Pumpkin Tres Leches (Mexico), Foo Foo Desserts
While the origin of this traditional Latin American dessert is up for contention, it is commonly found in bakeries across Mexico. Tres leches, which means 'three milks' in Spanish, refers to the heavy cream, condensed milk, and evaporated milk that combine perfectly to make up the sauce for the baked cake. Allow the sauce to saturate the cake so that it floods your mouth with every bite. The  Crispy Profiteroles with Salted Caramel Coffee from café are also well worth a try.
Address: 64A, Jalan Burhanuddin Helmi, Taman Tun Dr Ismail, 60000 Kuala Lumpur, Wilayah Persekutuan Kuala Lumpur
Contact: +603-2389 3155
Palmiers (France), Happy Endings Desserts
The proprietor behind this bakery is an engineer turned baker who ventured into the business to pursue his passion. Show your love to someone by giving them these heart-shaped French pastries. The perfectly flaky palmiers are made from puff pastry, a generous dose of French butter, and just the right amount of sugar. As the bakery does take-aways and deliveries only, take them home and enjoy them with a steaming mug of coffee.
Address: B-02-02 1st Floor Plaza, Jalan SS 7/13a, 47301 Petaling Jaya, Selangor
Contact: +6017-367 0084
DM us or email at
[email protected]
to let us know if you have tried any other interesting sweet treats that we have not covered here.
Image credit: @happyendingdesserts, @tiing.cafehop, @melxeats, @tanukibycrustz, @eatin.kl